Open-Airs

Einmal quer durch
Eine Musikgeschichte im Zeitraffer mit Uwaga!
Dargun, Kloster- und Schlossanlage (Open Air)
Prices *
€ 38.–/28.–/21.–
Artists
Uwaga! world music ensemble
Uwaga!
world music ensemble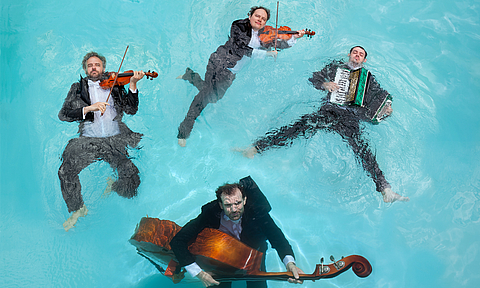 To Detail Page
Programme
Chronologisch katapultiert Uwaga! das Publikum im Zeitraffer von frühen Renaissanceklängen über Barock, Klassik, Romantik, Jazz und Rock 'n' Roll bis hin zu tagesaktuellen Pop-Hits. Mit der typischen Mischung aus Humor, Leidenschaft, Dreistigkeit und Virtuosität macht sich Uwaga! sämtliche Stücke zu eigen und sorgt in der beeindruckenden Kloster- und Schlossanlage Dargun für eine kurzweilige Exkursion durch die Jahrhunderte. In dieser Melange werden Künstler und Komponisten vereint wie MONTEVERDI, WAGNER, MILES DAVIS, STEVIE WONDER und RAGE AGAINST THE MACHINE.
Accompanying programme
18:15 Uhr Führung € 2.– (zzgl. VVK-Gebühr/begr. Kapazität)
Prices *
€ 38.–/28.–/21.–

Save to calendar

Click here 2021-08-05 19:30:00 2021-08-05 20:30:00 Europe/Berlin Einmal quer durch - Eine Musikgeschichte im Zeitraffer mit Uwaga! https://festspiele-mv.de/en/concerts/concert/program/einmal-quer-durch/?type%3D9%26cHash%3D70799ac80133a65e260487a03821ccc1 Dargun, Kloster- und Schlossanlage (Open Air) Festspiele Mecklenburg-Vorpommern organisation@festspiele-mv.de

Print event info Click here
Limited Wheelchair Accessibility
* plus advance booking fee or box office fee Back