Landpartie

In der Natur
Landpartie Zwischenwelten
Konau, KONAU 25 Frohe Zukunft
Prices *
€ 45.–/35.– · Landpartie inkl. Konzert: € 60.–/50.–
Artists
Aris Quartett string quartet
Aris Quartett
string quartet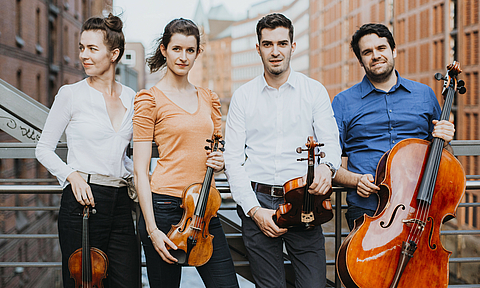 Publikumspreisträger (ermöglicht durch das »C. F. Holtmann-Stipendium«) 2019
To Detail Page
Programme
DVOŘÁK Zwölf Stücke für Streichquartett »Zypressen« (Auszüge)
HAYDN Streichquartett B-Dur op. 76 Nr. 4 Hob. III:78 »Sonnenaufgang«
MENDELSSOHN BARTHOLDY Streichquartett Nr. 6 f-Moll op. 80
Accompanying programme
Aris Quartett string quartet
Aris Quartett
string quartet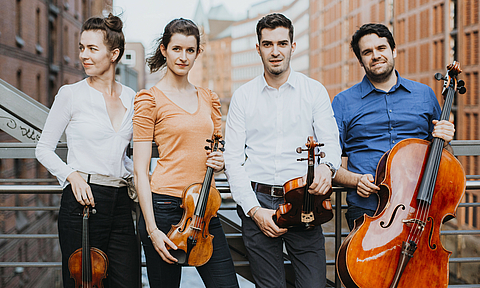 Publikumspreisträger (ermöglicht durch das »C. F. Holtmann-Stipendium«) 2019
To Detail Page
15:30 o'clock
Musikalischer Auftakt · Führung »Leben im Grenzgebiet« · Verköstigung
Hints
The concert can also be booked without an accompanying programme.
The catering (excl. drinks) is included in the Landpartie ticket.
Obstbaumalleen, eine besondere Tier- und Pflanzenwelt, malerische Sonnenuntergänge über der Elbe: Diese unberührte Landschaft ist noch immer im ehemaligen innerdeutschen Grenzgebiet zu entdecken. Bei der zweiten »Landpartie« des Festspielsommers lockt ein Ausflug nach Konau, zum Amt Neuhaus gehörend. Mit Musik, einer Führung sowie einer Verköstigung werden die Besucherinnen und Besucher auf das Leben an der ehemaligen Grenze aufmerksam gemacht. Zum Abschluss des Tages bringt das Aris Quartett ein Kammermusikprogramm mit Werken von Dvořák, Haydn und Mendelssohn Bartholdy zum Besten.
Kindly supported by Oscar and Vera Ritter-Stiftung

Konau, KONAU 25 Frohe Zukunft
Elbstraße 25
19273 Konau (bei Amt Neuhaus)
Prices *
€ 45.–/35.– · Landpartie inkl. Konzert: € 60.–/50.–

Save to calendar

Click here 2022-07-20 19:00:00 2022-07-20 20:00:00 Europe/Berlin In der Natur - Landpartie Zwischenwelten https://festspiele-mv.de/en/concerts/concert/program/in-der-natur/?type%3D9%26cHash%3D7fd68e2c1cc80c2fe9e62d1ed352d0c6 Konau, KONAU 25 Frohe Zukunft Festspiele Mecklenburg-Vorpommern organisation@festspiele-mv.de

Print event info Click here
Limited Wheelchair Accessibility
* plus advance booking fee or box office fee Back