Landpartie

Junge Elite: Mira Foron
Landpartie Schlossanlage Broock
Prices *
€ 25.– · Landpartie inkl. Konzert € 45.–
Artists
Mira Foron violin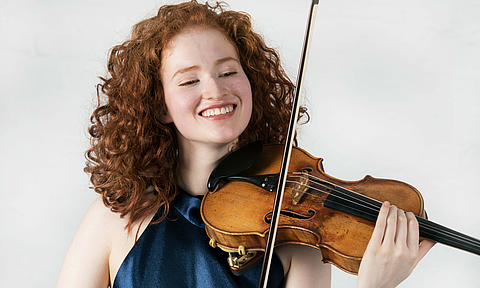 To Detail Page
Aris Alexander Blettenberg piano
Aris Alexander Blettenberg
piano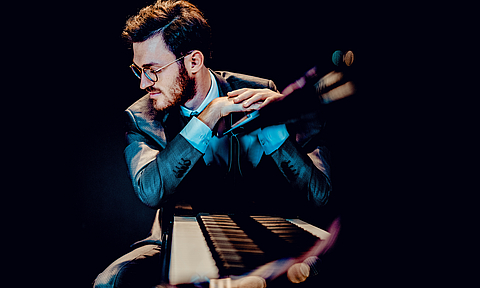 To Detail Page
Programme
STRAUSS Sonate Es-Dur für Violine und Klavier op. 18

TSCHAIKOWSKI Drei Stücke für Violine und Klavier op. 42 »Souvenir d'un lieu cher«

POULENC Sonate für Violine und Klavier FP 119

SAINT-SAËNS Introduction und Rondo capriccioso a-Moll für Violine und Klavier op. 28 (orig. für Orchester, Fassung von Georges Bizet)
Hints
The concert can also be booked without an accompanying programme.

The catering (excl. drinks) is included in the Landpartie ticket.
Die letzte »Landpartie« des Festspielsommers 2022 führt zur Schlossanlage Broock. Das einst größte Privatgestüt Vorpommerns wird derzeit zu einem überregionalen Kulturzentrum umgebaut. Nach einem Kurzkonzert begeben sich die Besucher und Besucherinnen zu einer Führung über das Schlossgelände und genießen im Anschluss eine kulinarische Verköstigung. In der Reithalle beschließt ein abendliches Konzert mit zwei vielversprechenden Nachwuchstalenten den Tag: Die Geigerin Mira Foron und der Pianist Aris Alexander Blettenberg geben Kammermusikwerke von Strauss, Tschaikowski u. a. zum Besten.
»Junge Elite« is made possible by CENTOGENE GmbH.

Kindly supported by Oscar and Vera Ritter-Stiftung
Prices *
€ 25.– · Landpartie inkl. Konzert € 45.–

Save to calendar

Click here 2022-09-17 18:00:00 2022-09-17 19:00:00 Europe/Berlin Junge Elite: Mira Foron - Landpartie Schlossanlage Broock https://festspiele-mv.de/en/concerts/concert/program/junge-elite-mira-foron/ Broock, Reithalle Festspiele Mecklenburg-Vorpommern organisation@festspiele-mv.de

Print event info Click here
Limited Wheelchair Accessibility
* plus advance booking fee or box office fee Back