Inselmusik

Konzert im Jagdschloss
Quatuor Hanson
Binz, Jagdschloss Granitz
Prices *
€ 30.– Anfahrt nur mit dem Jagdschlossexpress (inkl.)
Artists
Quatuor Hanson string quartet
Quatuor Hanson
string quartet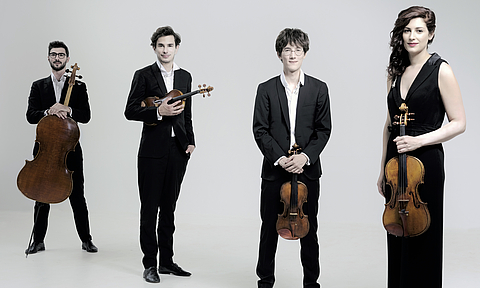 To Detail Page
Programme
SCHUMANN Streichquartett F-Dur op. 41 Nr. 2

SCHUMANN Streichquartett A-Dur op. 41 Nr. 3
Hints
concert without intermission

Change of programme Instead of the String Quartet No. 15 by Franz Schubert, the two works by Robert Schumann listed above are on the programme.

Shuttle Jagdschlossexpress:

Hinfahrt 15:00 Uhr ab Haltestelle Haus des Gastes zum Jagdschloss Granitz

Hinfahrt 15:10 Uhr ab Haltepunkte Reisebusse zum Jagdschloss Granitz

Rückfahrt nach Ende des Konzerts
Die dreitägige Inselmusik auf Rügen gehört zu den Höhepunkten des Festspielsommers. Drei junge Streichquartettensembles präsentieren sich hier in Konzerten, arbeiten und musizieren gemeinsam mit der Musiklegende Alfred Brendel sowie dem Festspielpreisträger Kit Armstrong.

Im nachmittäglichen Konzert auf dem idyllisch gelegenen Jagdschloss Granitz, dessen Aussichtsturm eine spektakuläre Aussicht bietet, bringt das Quatuor Hanson Schumanns Quartette in F-Dur und A-Dur zur Aufführung.
Kindly supported by municipality Binz
Inselmusik
Das Streichquartettfest auf Rügen
3-days ticket 30% Nachlass auf die Einzelpreise
Wed, 13. September · Rügen

Alfred Brendel
11:00 o'clock Sellin, Seebrücke € 25.–
Willkommen auf Rügen Consone Quartet string quartet Malion Quartett string quartet Quatuor Hanson string quartet
15:00 o'clock Bergen auf Rügen, Sparkasse Vorpommern € 20.–
Alfred Brendel unterrichtet Alfred Brendel Malion Quartett string quartet
16:00 o'clock Binz, Jagdschloss Granitz € 30.– Anfahrt nur mit dem Jagdschlossexpress (inkl.)
Konzert im Jagdschloss Quatuor Hanson string quartet
19:30 o'clock Boldevitz, Kapelle des Gutshauses € 40.–/30.–
Abendkonzert in Boldevitz Malion Quartett string quartet Quatuor Hanson string quartet
day ticket (13.09.) 10% Nachlass auf die Einzelpreise
Thu, 14. September · Rügen

Kit Armstrong
11:00 o'clock Binz, Jagdschloss Granitz € 30.– Anfahrt nur mit dem Jagdschlossexpress (inkl.)
Alfred Brendel unterrichtet Quatuor Hanson string quartet Alfred Brendel
11:30 o'clock Middelhagen, St.-Katharinen-Kirche € 55.–
Ausflug zur Halbinsel Mönchgut Consone Quartet string quartet
19:30 o'clock Putbus, Marstall € 40.–/30.–
Abendkonzert in Putbus Kit Armstrong fortepiano Consone Quartet string quartet Quatuor Hanson string quartet Malion Quartett string quartet
day ticket (14.09.) 10% Nachlass auf die Einzelpreise
Fri, 15. September · Rügen

Malion Quartett
15:00 o'clock Putbus, Theater € 40.–/30.–
A bis Z eines Pianisten Kit Armstrong piano Alfred Brendel reading
19:30 o'clock Putbus, Marstall € 40.–/30.–
Abschied von der Insel Kit Armstrong piano Quatuor Hanson string quartet Malion Quartett string quartet
day ticket (15.09.) 10% Nachlass auf die Einzelpreise
Prices *
€ 30.– Anfahrt nur mit dem Jagdschlossexpress (inkl.)

Save to calendar

Click here 2023-09-13 16:00:00 2023-09-13 17:00:00 Europe/Berlin Konzert im Jagdschloss - Quatuor Hanson https://festspiele-mv.de/en/concerts/concert/program/konzert-im-jagdschloss/ Binz, Jagdschloss Granitz Festspiele Mecklenburg-Vorpommern organisation@festspiele-mv.de

Print event info Click here
Wheelchair Barriers
* plus advance booking fee or box office fee Back