Prize-winner in Residence

My Inner Disco
Landpartie Karrenzin — Kirche — Kultur
Prices *
€ 45.– · Landpartie inkl. Konzert € 60.–
Artists
Martynas Levickis accordion
Martynas Levickis
accordion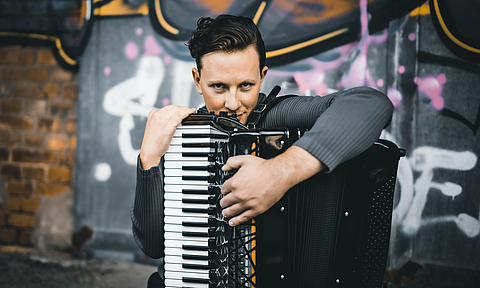 Publikumspreisträger 2014
Preisträger in Residence 2023
To Detail Page
Danish String Quartet string quartet
Danish String Quartet
string quartet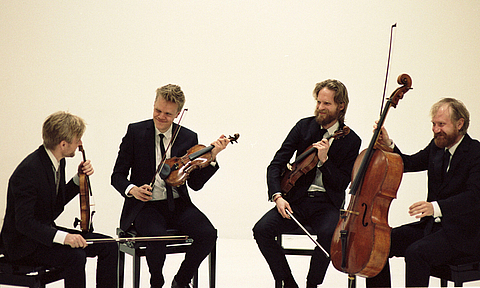 NORDMETALL-Ensemblepreisträger 2010
To Detail Page
Programme
NELSON »My Inner Disco« für Akkordeon und Streichquartett

PURCELL Chaconne g-Moll für Streichquartett

RUDERS Serenade on the Shores of the Cosmic Ocean für Akkordeon und Streichquartett (Auszüge)

SCHOSTAKOWITSCH Streichquartett Nr. 7 fis-Moll op. 108

NORDHEIM Flashing für Akkordeon solo

TRADITIONAL »Regin Smidur« für Akkordeon und Streichquartett (Fassung vom Danish String Quartet)

TRADITIONAL Ye Honest Bridal Couple / The Sønderho Bridal für Akkordeon und Streichquartett (Fassung von Danish String Quartet)

LEVICKIS Litauische Volksmelodien für Akkordeon und Streichquartett
Hints
The concert can also be booked without an accompanying programme.

The catering is included in the Landpartie ticket.
Skandinavien trifft Baltikum: Die vier charismatischen Musiker vom Danish String Quartet sind ebenso wie Preisträger in Residence Martynas Levickis seit vielen Jahren Mitglieder der Preisträgerfamilie und bekannt für ihre Neugier auf alte und neue Melodien. Das spiegelt sich folgerichtig auch in diesem Programm wider, dass Musik von Henry Purcell ganz natürlich mit zeitgenössischer Musik von Daniel Nelson kombiniert und lustvoll die Brücke zwischen einem Streichquartett zu skandinavischen und litauischen Volksmelodien schlägt. Spielfreude und Musikantentum trifft im Schützenhaus Grabow auf virtuose Präzision und Detailverliebtheit.

Bereits am Nachmittag lockt im rund 20 Kilometer entfernten Karrenzin die letzte »Landpartie« dieses Festspielsommers. Fernsehmoderator Hubertus Meyer-Burckhardt hat diesen Ort auf halber Strecke zwischen Hamburg und Berlin für sich entdeckt und möchte ihn aus seinem Dornröschenschlaf wecken. Nach einem musikalischen Auftakt mit Martynas Levickis erzählt Meyer-Burckhardt von seiner besonderen Beziehung zu Karrenzin.
Kindly supported by the city of Grabow, Stadtwerke Ludwigslust-Grabow GmbH and WBV mbH Grabow and Oscar and Vera Ritter-Stiftung
* plus advance booking fee or box office fee Back