My spirit sang all day I
NDR Vokalensemble & Simon Halsey
Klütz, Schloss Bothmer westl. Pferdestall
Conductor
Simon Halsey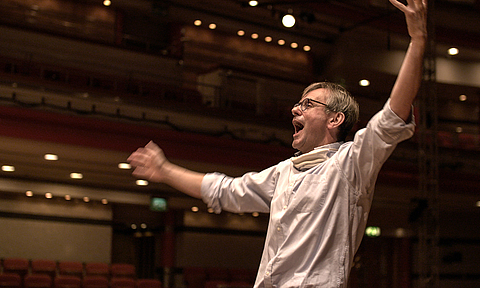 To Detail Page
Artists
NDR Vokalensemble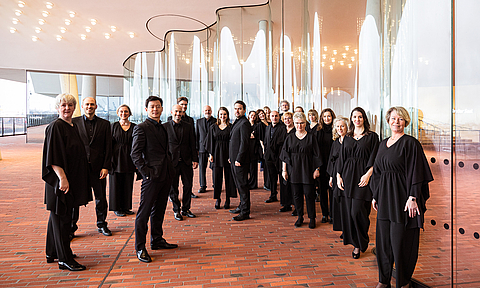 To Detail Page
Programme
FINZI »My spirit sang all day« aus Sieben Partsongs für Chor a cappella op. 17

DOVE »Who killed Cock Robin?« für Chor a cappella

ELGAR »O Wild West Wind!« aus Vier Part-Songs für Chor a cappella op. 53

VAUGHAN WILLIAMS Three Shakespeare Songs für Chor a cappella

WALLEN »Peace on Earth« für Chor a cappella
Hints
concert without intermission
Ein ganzes Wochenende lang präsentieren sich die Klangkörper des Norddeutschen Rundfunks, seit jeher Medienpartner und Förderer der Festspiele Mecklenburg-Vorpommern, auf der malerischen Anlage von Schloss Bothmer in Klütz — von feinster Vokalmusik über swingenden Big Band Sound bis hin zur großen Sinfonik.
Das NDR Vokalensemble unter Simon Halsey hat es sich nicht nehmen lassen, eigens zu diesem Anlass zwei Programme zusammenzustellen. Die unverkennbar englische Prägung kommt dabei nicht von ungefähr: So war es niemand Geringerer als der Adelige Hans Caspar von Bothmer, der 10 Downing Street in London zur Adresse der Regierung machte und später im beschaulichen Klützer Winkel das nach ihm benannte Schloss erbaute. Stärkung verspricht im Anschluss die zubuchbare »Tea-Time« mit Kuchen und Tee.
Kindly supported by Sparkasse Mecklenburg-Nordwest and Mecklenburgische Brauerei Lübz GmbH

In collaboration with Landesmarketing - MV tut gut.

Funded by the Europäischen Fonds für Regionale Entwicklung.
* plus advance booking fee or box office fee Back