Landpartie

Junge Elite: Agnès Clément
Landpartie Schloss Gadebusch
Gadebusch, Aula am Schloss
Prices *
€ 25.– · Landpartie inkl. Konzert € 35.–
Artists
Agnès Clément harp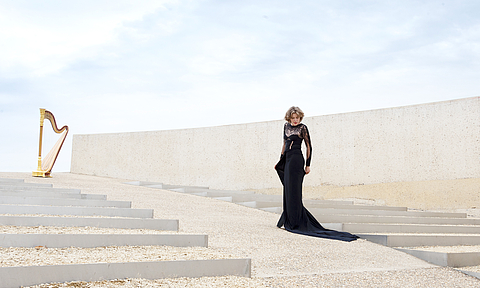 Publikumspreisträgerin (ermöglicht durch das »C. F. Holtmann-Stipendium«) 2022
To Detail Page
Programme
THOMAS The Minstrel's Adieu to his native Land für Harfe solo

CHATSCHATURJAN Oriental Dance and Toccata für Harfe solo

TRADITIONAL Volksweisen aus Lettland für Harfe solo

BORODIN Petite Suite für Harfe solo (orig. für Klavier solo) (Auszüge)

TOURNIER Danse du Moujik aus Suite Nr. 4 für Harfe solo »Images« op. 39

HOSOKAWA Two Japanese Folk Songs für Harfe solo

RAMEAU L'Egyptienne für Harfe solo (orig. für Klavier solo)

BARTÓK Drei ungarische Volkslieder für Harfe solo (orig. für Klavier solo)

HERSANT Bamyan für Harfe solo

RENIÉ Légende d'après »Les Elfes» de Leconte de Lisle für Harfe solo
Hints
The concert can also be booked without an accompanying programme. The catering is included in the day ticket.
Die vierte Landpartie des Festspielsommers führt in das malerisch von Wiesen und Wäldern umgebene Gadebusch, eine der ältesten Städte Mecklenburgs. Als Kulturdenkmal nationaler Bedeutung lockt das Schloss Gadebusch mit einem musikalischen Auftakt, einer Führung sowie einer anschließenden Verköstigung zum Entdecken. Am Nachmittag präsentiert sich die französische Harfenistin Agnès Clément im Rahmen der »Jungen Elite« in der Aula am Schloss mit einem vielseitigen Programm.
»Junge Elite« is made possible by CENTOGENE GmbH.

Kindly supported by Oscar and Vera Ritter-Stiftung
Prices *
€ 25.– · Landpartie inkl. Konzert € 35.–

Save to calendar

Click here 2022-08-21 16:00:00 2022-08-21 17:00:00 Europe/Berlin Junge Elite: Agnès Clément - Landpartie Schloss Gadebusch https://festspiele-mv.de/en/concerts/concert/program/junge-elite-agnes-clement/ Gadebusch, Aula am Schloss Festspiele Mecklenburg-Vorpommern organisation@festspiele-mv.de

Print event info Click here
Limited Wheelchair Accessibility
* plus advance booking fee or box office fee Back