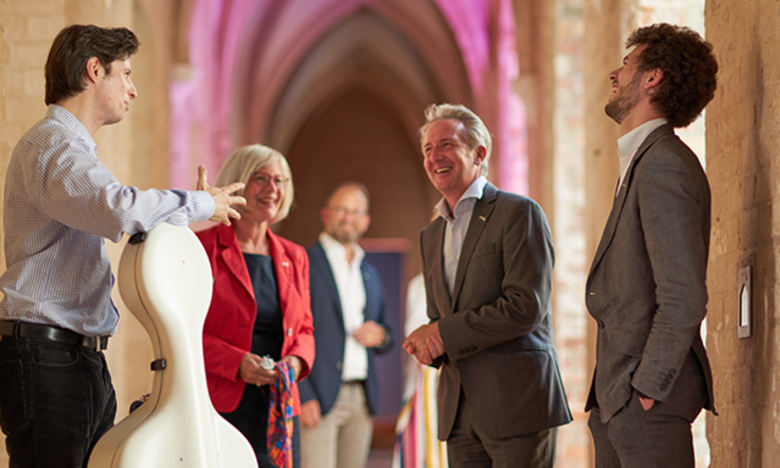 Friends of the Mecklenburg-Vorpommern Festival e.V.
The Festival Friends of the Festspiele Mecklenburg-Vorpommern are the lifeblood of the festival. More than 2000 members have supported the Festspiele Mecklenburg-Vorpommern since the very beginning. And their enthusiasm is contagious: the circle of members grows from year to year, creating a community of like-minded people who are especially connected and committed to the Festspiele Mecklenburg-Vorpommern.
CONTACT
Sandra Haß
T +49 385 591 85 99
M info@festspielfreunde-mv.de
BANK DETAILS
Vereinskonto
Sparkasse Mecklenburg-Schwerin
IBAN: DE76 1405 2000 0301 1065 84
Festival Friends contribute to the success of the Festspiele Mecklenburg-Vorpommern with their membership fees and personal commitment. As a thank-you, they receive benefits. In addition to the exclusive early booking period, in which only Festival Friends may order tickets, an individually compiled supporting program is aimed at members: artist talks, introductory events, museum tours, rehearsal visits, members' party or joint trips.

If you need more information, please call 0385 5918585.
As a member of the Festival Friends, you support outstanding young musicians as part of the Young Elite and make the festival programme possible. As a thank you for your commitment, you entitled to book tickets for Festspielfrühling concerts as well as for the comprehensive programme of Festspielsommer concerts three days before official ticket sales begin. At events put together especially for Festival Friends, you can take a look behind the scenes and get to know top-class festival guests. Artist talks, guided tours, museum visits or concert introductions are also among the exclusive special events. The same applies to the members' trip, which offers an attractive programme of cultural activities. Festival Friends celebrate a members' festival every year and receive all Festspiel programmes free of charge in the mail.
You can determine your annual membership fee individually, starting from a minimum amount of:
€ 50.- per year for individuals
€ 80.- for couples
€ 12.- for children and teenagers up to 18 years of age
The membership fee is tax deductible.

If you need more information, please call 0385 5918585.